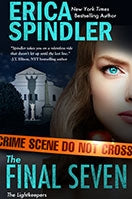 THE FINAL SEVEN
---
Buy It Now
The Countdown Has Begun . .

Descended from an ancient race, Earth's few remaining Lightkeepers battle the forces of darkness that threaten humanity

THE FINAL SEVEN.

The last thing New Orleans detective Micki Dee Dare needs is a smart-mouthed, super-intuitive new partner cramping her legendary, take-no-prisoners style.

But she soon learns there's way more to Zach "Hollywood" Harris, fresh out of an experimental FBI program, than meets the eye. His uncanny sensory abilities begin to reveal to Mick the presence of a powerful evil she can barely fathom.

As co-eds keep disappearing, leaving a trail of strange symbolism behind, one thing becomes clear: Mick and Zach's search for the perp is drawing them closer and closer to a terrifying, incomprehensible darkness that might just consume them all…

Full of surprise twists and unexpected turns, The Final Seven is a heart-pounding thriller that will keep you on the edge of your seat until the very last page.
Reviews
"Erica Spindler pulls out all the stops with the beginning of a supernatural series that is not to be missed!"

Fresh Reviews on The Final Seven
"Erica Spindler has long been an innovator, but she's created something truly special with this debut in her new thriller series, THE FINAL SEVEN. Engrossing, exciting, and genuinely scary, Spindler takes you on a relentless ride that doesn't let up until the last line."

J.T. Ellison, NYT bestselling author
"Part 'Miss Peregrine's Home for Peculiar Children' and part 'Criminal Minds,' TRIPLE SIX presents a cast of characters bonded together by their unique special abilities and an overwhelming desire to protect all that is good."

Indie Reader on Triple Six
"I love a good cross genre crime fiction read and Triple Six is exactly that."

The Crime Wrap
"I love the kind of supernatural thriller that makes you believe it could happen, and Erica Spindler delivers that here in a spectacular way. "

Quiet Fury Books