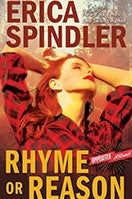 RHYME OR REASON
---
Buy It Now
When OPPOSITES ATTRACT sparks fly . . .

Renowned Boston Physician and single father Dr. Walker Ridegeman likes order and convention. He's accustomed to things being just so and people fitting into neat, predictable categories. So, when he meets Alex Clare, a red-headed seductress who's unconventional lifestyle is only eclipsed by her wide open heart, he's surprised by his powerful attraction to her.

Alex knows the sexy, serious doctor will never accept her as she is and resists being drawn into his web. But she keeps being pulled back by his adorable daughter, Lacy. Alex sees how hungry Lacy is for a woman's affection and how much she needs some freedom from her over-protective father.

But freedom for Lacy offers Walker time to focus on his desire for Alex, and civilized attraction quickly becomes wild, untamed passion. Will Walker be able to break the rules that bind him to the past? Could her magic teach him forgiveness and his caring transform her fear into the miracle of enduring love?
Testimonials
This section doesn't currently include any content. Add content to this section using the sidebar.