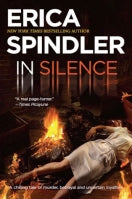 IN SILENCE
---
Buy It Now
Journalist Avery Chauvin is devastated when she receives word of her father's suicide. How could her father, a dedicated physician, have taken his own life? That he set himself on fire is unfathomable.

Returning to her hometown of Cypress Springs, Louisiana, Avery desperately searches for answers. Instead she hears whispered rumors of strange happenings, of neighbors who go missing in the night. She discovers a box of old newspaper articles in her father's house, all covering the horrific murder of a local woman. Why had her father kept them?

Then the past and present collide. A woman is found brutally slain. An outsider passing through town vanishes. And Avery begins to wonder, could her father have been the victim of foul play?

As each step closer to the truth exposes yet another layer of deceit, Avery must face the fact that in this peaceful Southern town a terrible evil resides, protected-until now- by the power of silence.
reviews
"Readers will be pulled inexorably onward by the question of whodunit."

Publishers Weekly
Erica Spindler "skillfully takes her readers into the subtle areas of crime scenes."

Yong-Myun Rho, M.D. consultant in forensic medicine