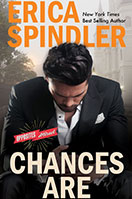 CHANCES ARE
---
Buy It Now
Free spirit Veronique Delacroix has a reputation for being reckless, and for thumbing her nose at society's rules. But her wild ways mask the vulnerability she keeps hidden. After all, with an impenetrable wall around her heart, how could it be broken?

Brandon Rhodes is New Orleans' version of royalty, his life steeped in the traditions of high society, Mardi Gras and privilege. His father's sudden death leaves him in control of his family's retail empire, but also with a vague restlessness. A sense that something is missing in his life.

An Unexpected Attraction

When Veronique and Brandon's paths cross, sparks fly. But Veronique knows what they share can only be temporary. She could never fit into his world--or his life.

Brandon is drawn to her in a way he has never been to another woman. But he harbors a terrible secret, one about his father and hers. One she would never forgive him for.

An Irresistable Dare

Veronique and Brandon's chance meeting leads to a seductive game of one-upmanship. Their flirtatious sparring seems harmless enough until it becomes a passionate winner-takes-all game in which their hearts are the ultimate prize.

Set against the backdrop of Mardi Gras in New Orleans, CHANCES ARE is a timeless romance that will leave readers breathless.
reviews
"This is one of Erica's romance novels from the "early" days - before the suspense bug bit her. I LOVE her suspense books but am impressed that she can write romance just as well. Multi-genre talented! Rich characters, romance that makes you blush and an all around great read. Thanks Erica!"

Anonymous (Amazon Reader)
"This sexy, sensual, tantalizing book of Ms. Spindler's made me feel like I had entered a horse track and picked the two longest shots to win, and not just place. From the moment the gates opened, Veronique and Brandon's attraction to each other was quite obvious. The intelligent, witty, funny and awesome conversations between Veronique and Brandon made the book impossible to put down. SUPERB READING FOR THE ROMANTIC SOULS. This book made me laugh, and cry with happiness. TO ERICA, thanks for creating such a delightful read. I LOVED IT!!!"

Anonymous (Amazon Reader)