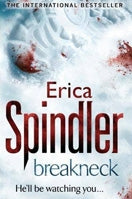 BREAKNECK (UK)
---
Buy It Now
A remorseless killer. A string of innocent, clean-cut victims. Detectives M.C. Riggio and Kitt Lundgren must race against a cold-blooded predator who moves at breakneck speed in this heart-pounding thriller from New York Times bestselling author Erica Spindler.

Hot on the heels of their last case, partners Mary Catherine (M.C.) Riggio and Kitt Lundgren, detectives in the police department's Violent Crimes Bureau in industrial, blue-collar Rockford, Illinois, are called out to a college student's apartment where a young man with no criminal record, not even a noise complaint from his neighbors, appears to have been murdered in his sleep.

The trail seems cold, until another victim turns up, and then another... each one striking closer to home for M.C. The growing list of seemingly emotionless kills leaves M.C. and Kitt little to follow-like the first victim, all the targets are young adults, kid-next-door types who've never taken a step outside the law. Meanwhile, the case starts to take its toll on M.C.'s personal life, setting her on edge with her partner and putting their hard-earned friendship in jeopardy. As M.C. and Kitt hunt a faceless killer, they are led deep into the cyberuniverse, where no one is who he seems and you never know who's watching. At the heart of this mesmerizing thriller is the relationship between two headstrong women as they struggle to balance their dual roles, to learn to trust, and to walk the fine line between upholding the law-and taking it into their own hands.
reviews
"TOP PICK! Filled with well-developed, multidimensional characters, Spindler's latest boasts fast-paced action and emotional tension... The intricately woven plot makes this novel a sure winner for readers who like to keep guessing all the way to the end."

Romantic Times BOOKreviews
"Erica Spindler never disappoints the reader who expects high quality writing, exciting techno thrillers, and exceptional characters.BREAKNECKliterally moves at "breakneck" speed as the body count rises daily and M.C. and Riggio are just a half-step behind the killer, not knowing that one of them is intended to be the next victim."

Betty Cox, ReaderToReader.com
"Fast-paced... emotional ... a sure winner for readers who like to keep guessing all the way to the end."

Romantic Times BOOKreviews