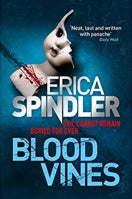 BLOOD VINES (UK)
---
Buy It Now
When Alexandra Clarkson starts having terrifying visions, she thinks that her mind is playing tricks on her. But when Alex's mother, Patsy, commits suicide without leaving behind any information, Alex is left to wonder whether she might be haunted by something from a childhood she can't remember.

Detective Daniel Reed was the last person to speak to Patsy. What he reveals to Alex is shocking: Twenty-five years earlier, Patsy was married to Harlan Sommer, one of Sonoma County's most prominent vintners, when their infant son disappeared without a trace. The loss destroyed the Sommers' marriage, causing Patsy to leave and take Alex with her.

Called on to investigate the identity of a baby's remains unearthed in a Sonoma vineyard, Reed had picked up a trail that led him to Patsy in San Francisco. Could these cold bones be Alex's long lost baby brother? Alex joins Reed in Sonoma for the investigation-and is soon drawn deep into the search for a twisted killer...
reviews
"Get ready to stay up all night .... The latest Erica Spindler has arrived and it's time for another pulse-pounding, page-turning, absolutely can't-put-it-down, roller-coaster of a read!"

LISA GARDNER New York Times Bestselling author of Live to Tell
"Intoxicating suspense blended with subtle hints of obsession, intense family secrets, a touch of murder, and richly textured with Sonoma wine country history. Best served with a glass of your favorite wine for a sleepless one-night read."

ALEX KAVA New York Times bestselling author of Black Friday
"Set in California's wine country,BLOOD VINESis as mysterious and delicious as a fine cabernet. Erica Spindler delivers all the ingredients of a top-notch suspense novel with the finesse and subtlety of a master storyteller. Chock-full of family secrets, a setting so real you can see the dew sparkling on the grapevines, and a cast of fascinating characters,BLOOD VINESwill keep you guessing until the end."

LINDA CASTILLO, New York Times bestselling author of Breaking Silence