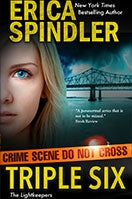 TRIPLE SIX
---
Buy It Now
The countdown continues . . .

Descended from an ancient race, Earth's few remaining Lightkeepers battle the forces of darkness that threaten humanity

TRIPLE SIX

Miraculously healed from the injury she suffered in the line of duty, Detective Micki Dare and her partner, Zach Harris, are called to investigate a string of brutal—and baffling—home invasions.

The impossible surrounds the case—contradictory accounts by eye witnesses, guard dogs that slumber through mayhem, and perps with strangely similar tattoos—all a mathematic combination of three sixes.

Soon, Micki and Zach must face a terrifying truth: their foe is a familiar one—a dark entity they thought they'd beaten. More powerful than before, this time it's threatening those closest to Micki.

Without a forbidden alliance between humans and light beings, Micki and Zach will be defenseless against this all-encompassing evil—too late to save the innocents, and with them, the future of the human race.

Terrifying and suspenseful, the new novel from Erica Spindler is a masterclass in thriller storytelling - you won't be able to put it down.
reviews
"Erica Spindler pulls out all the stops with the beginning of a supernatural series that is not to be missed!"

Fresh Reviews on The Final Seven
"Erica Spindler has long been an innovator, but she's created something truly special with this debut in her new thriller series, THE FINAL SEVEN. Engrossing, exciting, and genuinely scary, Spindler takes you on a relentless ride that doesn't let up until the last line."

J.T. Ellison, NYT bestselling author
"Part 'Miss Peregrine's Home for Peculiar Children' and part 'Criminal Minds,' TRIPLE SIX presents a cast of characters bonded together by their unique special abilities and an overwhelming desire to protect all that is good."

Indie Reader on Triple Six
"I love a good cross genre crime fiction read and Triple Six is exactly that."

The Crime Wrap
"I love the kind of supernatural thriller that makes you believe it could happen, and Erica Spindler delivers that here in a spectacular way. "

Quiet Fury Books