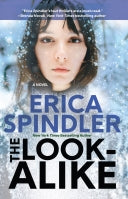 THE LOOK-ALIKE (UK)
---
Buy It Now
THE LOOK-ALIKE, written in Erica Spindler's trademark style — fast-paced, with twists and turns that lead to a final, shocking conclusion — proves once again why she has legions of fans around the world and has been dubbed the Queen of the Romantic Thriller.
---
Sienna Scott, who grew up in the dark shadow of her mother's paranoid delusions, returns home to confront her past and the unsolved murder that altered the course of her life.
In her mother's shuttered home, an old fear rears it ugly head. One that had taken root inside Sienna all those years ago - that it was she who had been the killer's target that night. And now, with it, a new fear - that the killer not only intended to remedy his past mistake - he's already begun.
As the walls close in, the line between truth and lie, reality and delusion disintegrate. Has Sienna's worst nightmare come true? Has she inherited more than her mother's beautiful face? Or will she unmask a killer and finally prove she may be her mother's look-alike, but she's not her clone?
Reviews
This section doesn't currently include any content. Add content to this section using the sidebar.