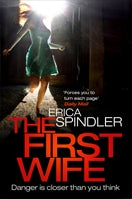 THE FIRST WIFE (UK)
---
Buy It Now
As a child, Bailey Browne dreamed of a knight in shining armor swooping in to rescue her and her mother. As she grew older, those dreams transformed, becoming ones of a mysterious stranger who swept her off her feet and whisked her away from her ordinary existence. Then, suddenly, there he was. Despite the ten year difference in their ages, her working class upbringing and his of privilege, Logan Abbott and Bailey fall deeply in love. Marriage quickly follows.

But when Logan brings her home to his horse farm in Louisiana, a magnificent estate on ninety wooded acres, her dreams of happily-ever-after begin to unravel. A tragic family history she knew nothing about, plus whisperings about the disappearance of his first wife, True, and rumors about the women from the area who have gone missing—and when another woman disappears, all signs point to her husband's involvement.

At first Bailey ignores the whispers—even as they grow louder and circumstantial evidence against Logan mounts. But finally, Bailey must make a choice: believe what everyone says is true—or bet her life on the man she loves, but is realizing she hardly knows.
reviews
"In this heated romantic thriller from Spindler (Justice for Sara), Bailey Browne knows virtually nothing about Logan Abbott, the man whose marriage proposal she accepts 10 days after they meet on a Grand Cayman beach. Back at Logan's horse farm in Wholesome, La., the members of his household see an uncanny resemblance between Bailey and Logan's first wife, True, whom he claims left him suddenly. Others, notably the obsessed police chief Billy Ray Williams, believe Logan killed True, along with several other young women who have disappeared. Strong personalities make for some wonderfully tense revelations, and whether Bailey should trust her husband or his detractors remains convincingly up in air..."

Publisher's Weekly