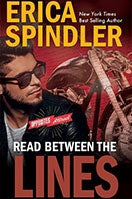 READ BETWEEN THE LINES
---
Buy It Now
When OPPOSITES ATTRACT, sparks fly . . .

University professor Katherine Reed's research had her in a cold sweat. There was only one way to study the effects of cohabitation on behavior—find a male roommate. Katherine never imagined that sexy Michael Tardo—the bad boy from her past—would volunteer.

Was she immune to the charm that had made her play the fool eight years ago? Probably not. But he hadn't been interested in more than a friendship with her back then and she wasn't about to succumb to those charms again—this time around, the bedroom door would stay firmly shut.

Confident she has the situation—and her attraction to Michael—under control, Katherine lets him move in. She quickly realizes she's not in control and that Michael seems to have planned some research of his own . . .
reviews
This section doesn't currently include any content. Add content to this section using the sidebar.