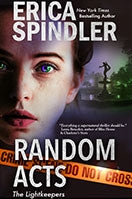 RANDOM ACTS
---
Buy It Now
Before the countdown began . . . .

One dead queen.

Three bizarre acts of violence.

No visible connection between the crimes.

Michaela Dee Dare, newly minted detective for the New Orleans PD, is called to a Garden District mansion—someone's decided to bludgeon a former Queen of Carnival to death with her own scepter.

Even as the investigative pieces begin to fall into place and they close in on a perpetrator, something's not adding up for Micki. It's too easy, the crime too random. But what's a rookie detective to do when her seasoned partner doesn't agree with her?

Betting on her instinct and gambling with her future in the NOPD, Micki strikes out on her own, pulling at strings that reveal an evil that chills her to her core—and may cost her everything she holds dear.

Set in New Orleans' most iconic neighborhoods, this exciting prequel to The Lightkeepers —a series lauded as 'enthralling' and 'not to be missed'—introduces tough, likable heroine Micki 'Mad Dog' Dare, and foreshadows the thrill-packed journey to come.
Reviews
This section doesn't currently include any content. Add content to this section using the sidebar.