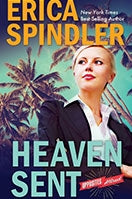 HEAVEN SENT
---
Buy It Now
When OPPOSITES ATTRACT sparks fly . . .

Jessica Mann is determined to prove to her father that she has what it takes to run his L.A. advertising agency. She's totally focused on her goal and doesn't have time for romance or a man in her life. And certainly not one as handsome and unconventional as Clay Jones, the advertising wunderkind she's forced to collaborate with on the account that will determine her future. So why is he the one man who makes her forget everything but the magic his touch?

Clay's been where Jessica's been—on the fast track, caught up with winning no matter the consequences. He knows it's a trap. Money and power left him empty and wanting more. Jessica's the wrong woman for him, so why can't he leave her alone? Why does she affect him—body and soul—in a way no other woman has?

Will their forced collaboration prove to be Heaven Sent . . . or create a fire that consumes them both?
reviews
This section doesn't currently include any content. Add content to this section using the sidebar.