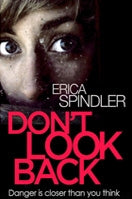 DON'T LOOK BACK

Titled JUSTICE FOR SARA in U.S.
---
Buy It Now
When seventeen-year-old Katherine McCall awakened one morning to find her beloved sister, Sara, brutally murdered, her whole life changed in the blink of an eye. Kat was named the prime suspect and, on a string of circumstantial evidence, charged and tried. While the jury found her innocent, not everyone else agreed, and her only choice was to go into hiding. But she carried a dark secret with her, one that made her worry she might actually have had something to do with Sara's death...

Now years later, Kat is still haunted by her sister's unsolved murder and continues to receive chilling anonymous letters, but she has tried to move on with her life. Until, on the tenth anniversary of Sara's death, she receives a letter that makes the past impossible to ignore: "What about justice for Sara?" What about justice for Sara? And for herself? Kat realizes that going back to Liberty, Louisiana, might be the only way to move forward and find some peace. And there's a killer out there who was never caught.

But the town she's come back to is hardly different from the one she left. The secrets and suspicions still run deep. Kat has an ally in Detective Luke Tanner, son of the former Liberty police chief, but he may be her only one. With plenty of enemies, no one to trust and a killer determined to keep a dark secret buried, Kat must decide if justice is worth fighting- and -dying for.
reviews
"Spindler offers dual story lines as the past and the present run seamlessly and simultaneously throughoutJustice for Sara. It's a powerful cocktail of seeking the truth and finding your path, all while racing towards the climactic ending. Spindler without a doubt keeps fans on the edge of their seats."

Shannon Raab for Suspense Magazine
"Spindler's latest does a fantastic job of switching viewpoints and time periods, unraveling the mystery and revealing long-held secrets. The cast of suspects is unique and entertaining, and the small-town setting has an atmospheric quality that ramps up the tension."

RT BOOKReviews
"Justice for Sarais not only a chilling, close-to-home suspense filled with riveting flashbacks, it's also the story of a complex and compelling relationship between sisters. The emotions and revelations drew me right in and kept me hooked. "

Andrea Kane New York Times bestselling author of The Line Between Here and Gone
"Justice for Sarais a tour-de-force novel of suspense - a small-town murder with a big city twist. Spindler's pitch perfect characters and elegant plotting propel the story, and you'll stay up all night reading and beg for more. This is Spindler at her very best: deep, dark and daring."

JT Ellison bestselling author of Edge of Black