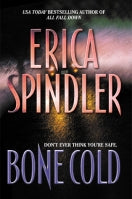 BONE COLD
---
Buy It Now
Twenty-three years ago Anna North survived a living nightmare. A madman kidnapped her, cut off her pinkie, then vanished. Today Anna lives in New Orleans, writing dark thrillers under another name. She finally feels safe.

Suddenly Anna's quiet life takes a frightening turn. Letters start to arrive from a disturbed fan. Anna is followed, her apartment broken into. Then a close friend disappears.

Anna turns to homicide detective Quentin Malone, but Malone's more concerned with the recent murders of two women in the French Quarter. But after a third victim is found-a redhead like Anna, her pinkie severed-Malone is forced to acknowledge that Anna is his link to the killer...and could be the next target.

Now Anna must face the horrifying truth-her past has caught up with her. The nightmare has begun again.
reviews
"A compelling story packed with authentic detail, Spindler's novel chilled me to the bone!"

Chris Rush International private investigator
"Sure to keep readers on the edge of their seats till the very last page."

Chris Lawton United Nations security advisor